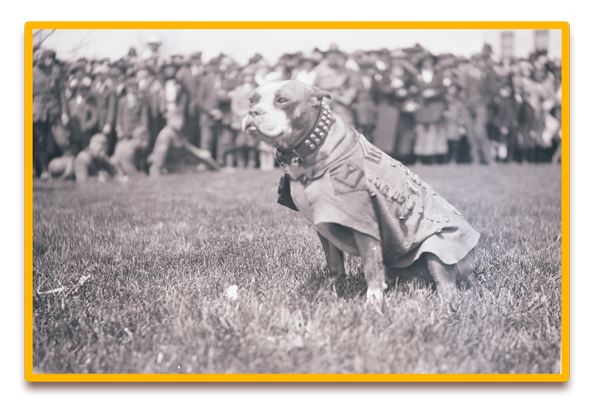 1915 to 1917
We know nothing about Stubby's early years or even when he was born. But we do know that he was a homeless stray living on the streets begging for food.

Life on the streets for a little dog would have been tough. He would always have been trying to evade the dreaded dogcatchers and a one way trip to the pound. Lucky for him his life changed around September 1917.
Sgt. Stubby, an American hero
Connecticut State Library
The adventure begins



1917 to 1918
America entered WW1 in April 1917, and young men flocked to cities like New Haven, Connecticut for Army training. One young man, Robert Conroy, befriended the little stray, gave him food, taught him to salute and gave him a name--Stubby.

Stubby trained alongside Robert and his buddies, but when the time came for them to ship out, he was left behind. Ever tenacious, Stubby found his way on to the USS Minnesota and set sail for France. Caught mid-Atlantic by General Clarence Edwards, Stubby saluted this high ranking officer and was formally allowed to join the 102nd Infantry Regiment.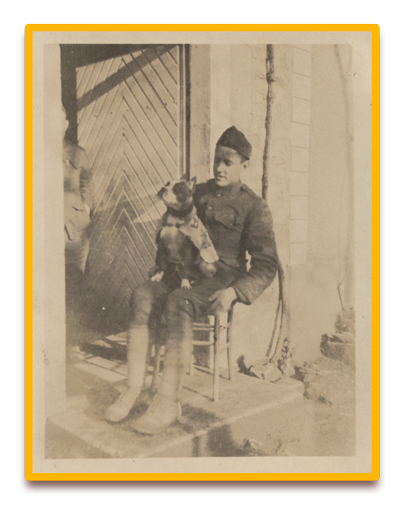 America Enters WW1
Sgt. Stubby and Robert Conroy
Connecticut State Library



1918 to 1919
While overseas, Stubby saw action in 17 different battles and received critical wounds during a chemical attack. Once he recovered, his newly heightened sensitivity gave him the ability to detect incoming attacks and alert his brothers-in-arms. He could also discern English from German, leading medics to wounded Americans on the battlefield. This trait also enabled him to catch a German spy in the Yankee Division's trenches, an act that led to his promotion to Sergeant (making him the first dog promoted in combat)!.

After the war, Stubby and Conroy stayed in France for a time. In fact, this is where he met Woodrow Wilson, the first of the three presidents he would entertain in his lifetime.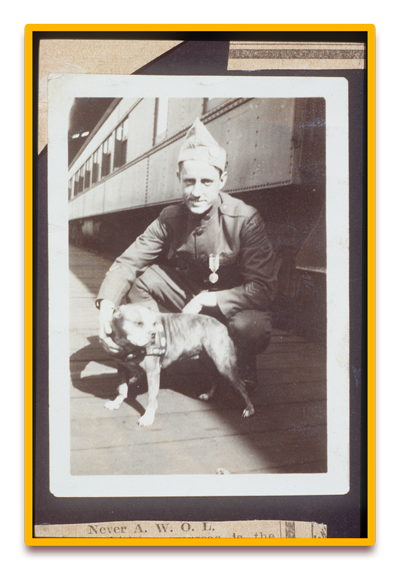 17 different battles
Sgt. Stubby and Robert Conroy
Smithsonian National Museum of American History



1919 to 1923
Return from war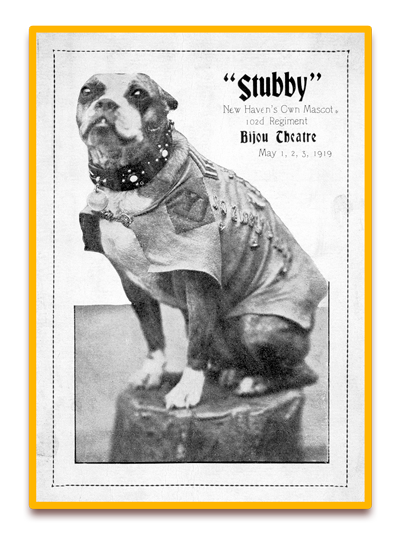 102nd Regiment Bijou Theatre. May 1, 2 , 3, 1919 - Smithsonian National Museum of American History
Stubby and the soldiers returned home to a different world. Automobiles were everywhere, most women could vote, and there was very little work available. Fortunately, a chance encounter with Vaudeville impresario and theatre owner S.Z. Poli propelled Stubby and Conroy to fame and fortune. Stubby was given a headline Vaudeville act, entertaining crowds on the same stages as stars like Houdini, Mary Pickford, and Will Rogers.

Eventually, Stubby and Conroy left Vaudeville and headed to Washington, D.C. There, Conroy studied law at Georgetown while Stubby became a fixture at football games. He even became the official Hoyas mascot and performed on the field during halftime, making him the first-credited halftime performer! The duo also worked for the Bureau of Investigation, fighting organized crime during Prohibition.
'Stubby' New Haven's own Mascot



1923 to 1926
White House visit
Stubby continued his duties for Georgetown and even found time to drop in on Presidents Harding and Coolidge at the White House. Throughout his illustrious career, Stubby never forgot his veteran friends. He regularly visited wounded soldiers in hospital and marched at the head of American Legion parades.

On March 16th, 1926, Stubby passed away in the arms of his best friend. From coast to coast, newspapers published obituaries for Stubby including a full three columns on the front page of The New York Times. But the one that most strikes a chord with us is: "Stubby only a dog? Nonsense! Stubby was the concentration of all we like in human beings and lacked everything we dislike in them."
Sgt. Stubby with Robert Conroy at the capitol in Washington, D.C.
Smithsonian National Museum of American History